To Super Web Designs.com, we're a comprehensive web designing firm, established in 2003 to help your company reach its full potential. We're also an SBA Self-Certified WOSB who provides "superior website design solutions" that will take your business to another level in reputation and sales. We create and design Custom Websites to make sure that your message is consistently crystal clear, so that it is getting you the Right Clients, at the Right Time. Should you be a small business or a big business - we have what it takes to meet your company's needs.
And, this is why we continue in our efforts to meet the top five most important things to you, as one of our highly respected customers. We assure you that you will get value for your money, you will see that our staff provides excellent customer service, and you will know that we're a reliable company who keeps its promises. Plus, you'll see the quality of work that we provide and you will always experience an ease of doing business with us.
Our Services
We offer Custom Website Designs, Website Maintenance, and a huge selection of Custom Design Business Cards. Keep in mind, everything that we offer is designed for what you want for your company and that is...to promote your business with maximum exposure which results in turning visitors on your website into loyal customers.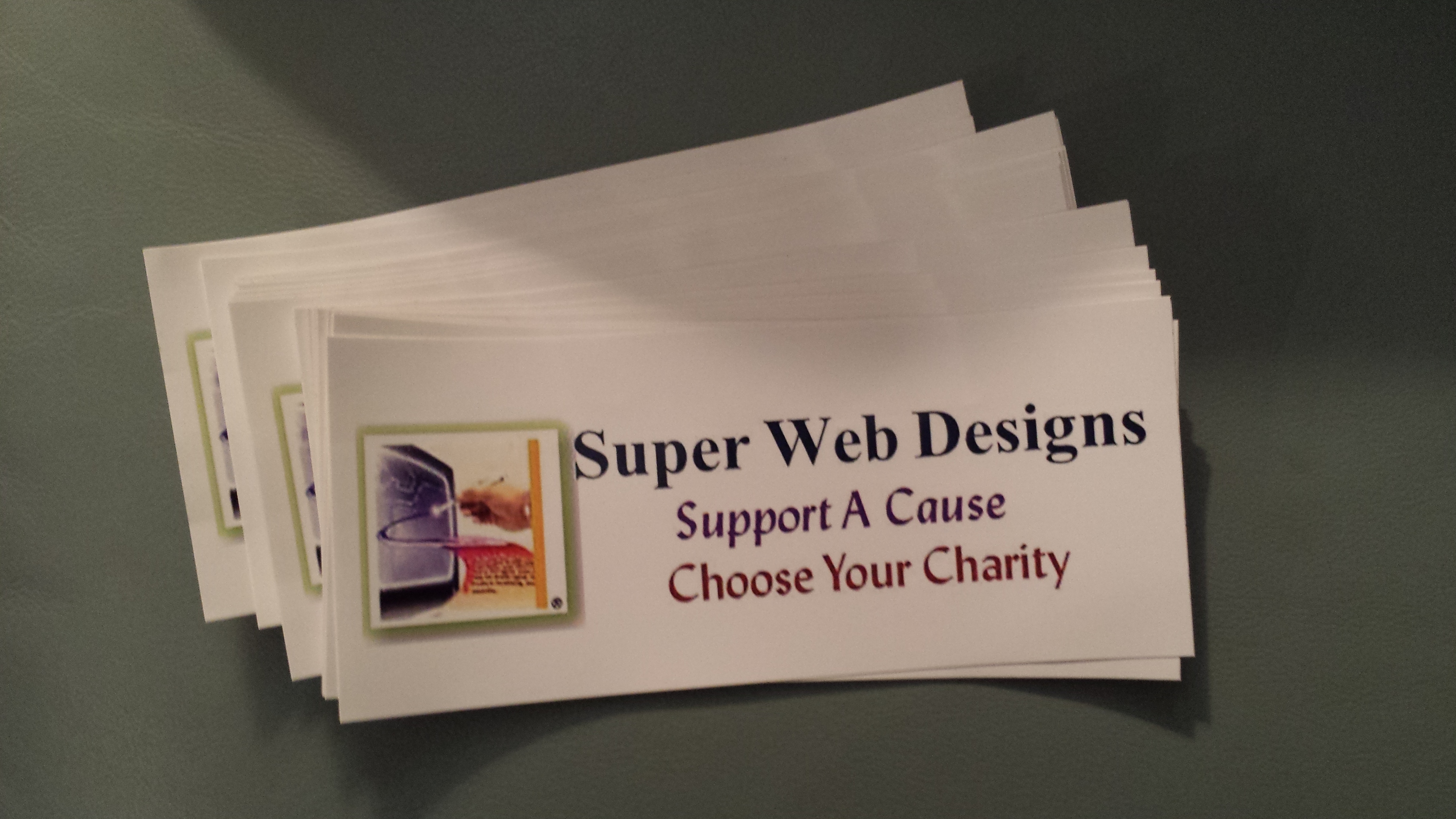 We at Super Web Designs are honored to contribute to supporting your cause. Every bumper sticker purchased will receive a vote towards the charity of your choice. And, at the end of every quarter the charity with the most votes will receive 10% of the profits.

UPDATE-In light of the tragedy suffered by so many people in TX, FL, and the Caribbean region, we are extending our Super Web Designs Bumper Sticker Promotion. In addition, to the 10% of sales profits given to the charity receiving the most votes at the end of every quarter, we will DONATE 15% of the profits directly to the AMERICAN RED CROSS for the HURRICANES HARVEY, IRMA & MARIA RELIEF EFFORTS.

Thank You for helping us, to Support A Cause...

The purchase price of A Bumper Sticker is $5.00 (and the listed price does include the shipping & handling fees).



Enter Your VOTE – Today!

All SWD products and services include -
•

Domain Name Registration and Setup

•

Custom Website Design

•

Website Maintenance

•

Business Cards

•

Brochures

•

Post Cards

• Social Media Marketing
•

Flyers

•

FREE

1st Time Consultation Session
So, click on the headings (Website Designs, Business Cards and eStore Products) listed above, to see what our company can do for you.
Testimonial #1 - "Super Web Designs has provided us with very professional and timely services. We would not hesitate to recommend Super Web Designs to augment or supply your Web solutions."
Paul Card, Marketing Director
Testimonial #2 "I'm really pleased with our website. For us,
Super Web Designs did a great job. And, I certainly recommend their
services".
Sandy Sroka, CEO / Defensive Backpacks.com
Mailing Address
226 Plymouth Ct.
Quakertown, PA 18951
Phone
215·536·8782
Business Hours:
Monday - Friday 9:00 am-5:00 pm (EST)

Leave A Reply:
info@SuperWebDesigns.com